3d-MAG SSPEI235S - PEI Magnetic Smooth PEI Coated Spring Steel Base Sheet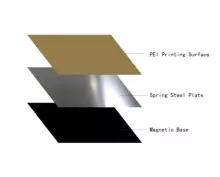 1.Black PEI powder
 2.PEI sheet :Ultem PEI sheet ,thickness 0.15mm ,temperature resistance: more than 200degree.
 3.Spring steel sheet: thickness 0.4mm,0.5mm are available ,very flat and the temperature transfer ,flexibility very good.
 4.working temperature up to 130 degree 
 Good flatness, magnetism and flexibility spring steel sheet 
Thickness 0.4mm ,0.5mm are available 
  Amber PEI power coated type 
 Magnetic PEI coated spring steel sheet including : 
1. Smooth PEI or PEI power layer 
2. Spring steel sheet 
3. Magnetic base 
Important Information:
1.Recommend print temps
 PLA – 60C

HTPLA – 60C

PETG – 70-80C

PCTG – 70-80C

ABS – 100C
2.Product Usage Guidelines
PETG/PCTG/TPU
– If you are not careful with your 1st layer you can risk bonding the PETG/PCTG/TPU to the PEI surface. This will damage the surface. To prevent damage to the surface apply hairspray or PVA gluestick before printing PETG/PCTG/TPU on the PEI
Part Removal– Make sure your plate is at close to room temp (under 30C) before removing parts. If you remove when hot it is more likely to damage the surface
 3.How to use?
After apply the PEI sheet on our special spring stainless steel sheet, You can simply use 4 clips or magnets to hold it on the heatbed, then enjoy the printing.

Easily remove 3D prints on printer by removing the spring steel plate, flexing it, and popping the print off. It's simple and makes the print removal process much easier.

For details, Check the guide video on Youtube
 Available size :
220*220mm
235*235mm
224*254mm
310*310mm
400*400mm
350*350mm
500*500mm
600*600mm
 Customize any size according to your drawing 
 Please contact Printsource3d if a different size is required as we only stock the 235 x 235 mm.and 310 x 310 mm
Doubled-sided PEI Powder-coated spring steel sheet with magnet 3M base makes for the best all around build surface. Textured or smooth finish depending on the side you use. Easy to remove plate from printer then simply bend a little to pop prints off.
Powder coating directly on metal makes it very hard to damage this build plate. If a heated nozzle crashed into it, the metal can dissipate the heat. Powder coating also gives the surface a distinct textured look that will be visible on your prints. The textured surface hides most of the mechanical damage caused by tools.
Material Compatibility:
PLA ABS PETG TPU PVA etc.
Size:
235x235mm
Fits Ender 3, Ender 5 etc.
​​Maintenance:
Wipe the print surface before and after a print with isopropyl alcohol to maintain a clean surface for maximum bed adhesion strength. As with any build surface, make sure you are not printing too close to the bed to avoid possibly infusing the filament into the build surface. If printing PETG, TPU, TPE, and RYNO, make sure the bed is heated BEFORE attempting to remove the print from the bed.
Package listing:
1* Steel sheet
1* Magnet base