3d-CR6 SE Nozzle B1.75 0.4 - CR-6 Brass Nozzle 1.75 -0.4mm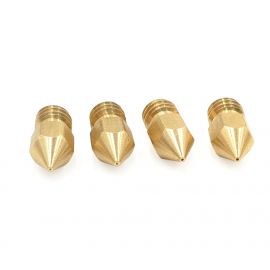 Maximum temperature:

 300 °C
New designed MK nozzle is crafted with advanced processing technology, which makes the printing model more smooth and delicate.

Made of high quality brass

Durable aperture, which greatly helps reduce friction resistance to the filament, promoting smoother filament feed-in.

0.4mm output diameter and M6 diameter external thread for connection.

Compatible with CR-6 SE/Ender-3 series/Ender-5 series/Ender-6/CR-10/CR-10S/CR-10mini/CR-10max/CR-10 V2/CR-10 V3.