3d-T-BMGK - Dual Drive BMG Extruder Bowden 1.75 Kit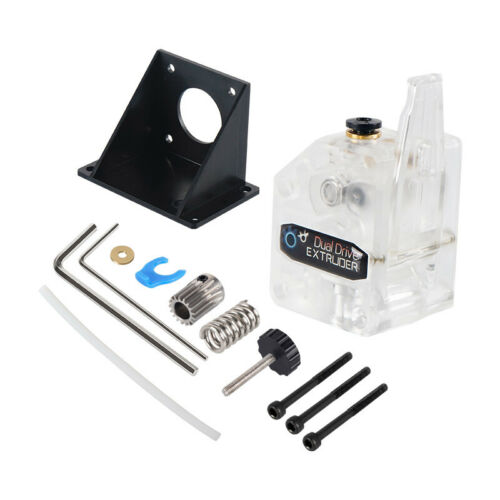 BMG extruder is suitable for nylon and soft TPU/TPE materials
The extruder is designed for 1.75mm, and the fastening spring device allows the user to fine-adjust the feed dual drive gear applied to the consumables pressure.
This allows the user to adjust the tightness according to the characteristics of the consumables.
The unique double feed gear minimizes skidding and increases the power of the feed.
Reduction gear device can also give out more torque, reduce the burden of the motor, extend the life of the motor.
The BMG utilizes an internal gearing ratio of 3:1 together with precision cnc-machined hardened steel drive gears to give you a compact powerhouse for all your applications.
Whether you require high resolution prints with small nozzles or high-flow prints with big nozzles the optimized gearing ratio combined with our industry leading drive gears provides unparalleled pushing power and lightning fast retractions in a lightweight and compact package.
Installation is very easy because the upgraded aluminum extruder is assembled in exactly the same way as the original plastic extruder
Replacement for Plastic Extruder on Creality 3D Printer
Installation is very easy because the upgraded aluminum extruder is assembled in exactly the same way as the original plastic extruder
Powerful spring reduces the chances of filament slipping
34mm Nema 42 Stepper Motor