Colido X3045 3d Printer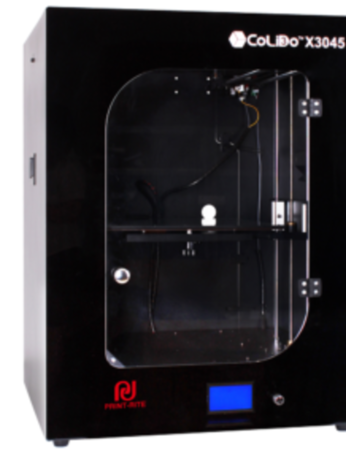 Colido X3045 3d Printer.
-Multi Material, Multi Colour Printer.
-Handles PLA,ABS or TPU.
-Build size 30cm x 30cm x 45cm
-Patented Heated Glass Platform, prevents any excess melted Filament from sticking to it.
-Print Item easily removed with no special tools
-Easy to use Control Panel
Price:
NZ$
4,325.00
including GST
NZ$
3,760.87
excluding GST
Colido X3045 3d Printer. Handles PLA,ABS or TPU.Build size 30cm x 30cm x 45cm. Patented glass platform, easy removal by hand, no tools required.. High print quality, up to 0.1 mm resolution. Layer Resolution 0.1- 0.4 mm. One button control. Connect through SD Card or USB. Low noise level, 45db. Weight is 45.5 kg,  Support File type STL/G-Code. Supported In New Zealand.
What's supplied in the box:
CoLiDo X3045 3D printer
1kg PLA filament
SD card and card reader
PLA and ABS patented glass plaform
3D printed samples
Nozzle unit (spare part)
Other accessories, including tools.
c***c – April 8, 2015
The printer works well and I appreciate their customer services. The quality of printouts also depends on the 3d files.
2.    
S***E – August 4, 2015
It produces high quality printouts. It is worth it.
3.    
rvandermey – May 6, 2016
Quality prints and Easy to setup. The X3045 is very quiet for the size of the machine, and has a smooth print resolution. I have had this 3D Printer since it's first release and run it 24/7 making hands for eNABLE. No failures as of this date. I have it printing parts for an RC Car in Carbon Fiber…AMAZING!
4.    
Trouble Sturm – June 7, 2016
The print volume on these is very large, obviously. It helps when printing larger prints. I've been very impressed with this printer. It's also very quiet.