PLA Filament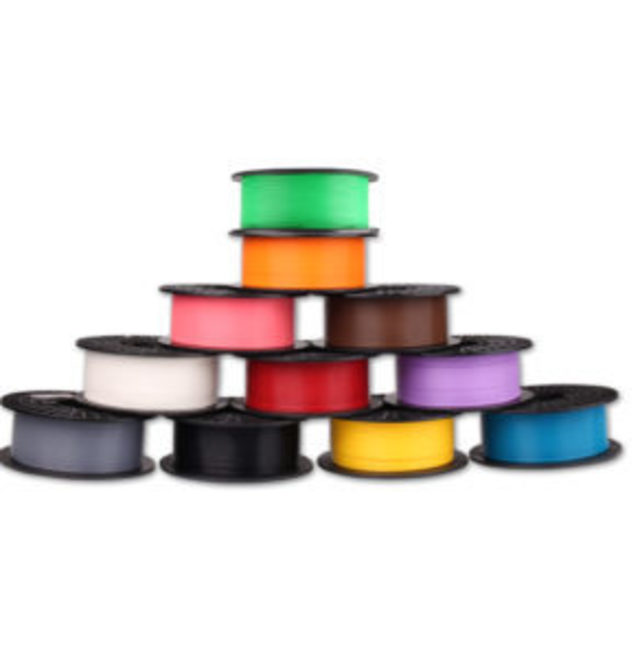 Colido Universal PLA Filament for 3D Printer.
-1KG on Spool, 1.75mm
-Compatible with different FDM 3D printers.
-Nozzle Temp 190 Deg - 210 Deg
-High Pression uniform diameter (tolerance +-0.03mm and stable melting point
-Good toughness, High strength, high stiffness
-Suitable for non heated bed
-Good stickability to bed
-Low shrinkage
Comes sealed in Vacuum Airtight Plastic bag, so free of moisture
Colours available: Black, Brown, Grey, Orange, Pink, Purple, Red, Green, Blue, White, Yellow.
Colido Universal PLA Filament for 3D Printer.
-1KG on Spool, 1.75mm White
-Compatible with different FDM 3D printers.
-Nozzle Temp 190 Deg - 210 Deg
-High Pression uniform diameter (tolerance +-0.03mm and stable melting point
-Good toughness, High strength, high stiffness
-Suitable for non heated bed
-Good stickability to bed
-Low shrinkage
Comes sealed in Vacuum Airtight Plastic bag, so free of moisture
PLA Filament is available in the following colours: Black, Brown, Grey, Orange, Pink, Purple, Red, White, Yellow